We support food and beverage processors in developing skilled employees and creating exceptional workplaces.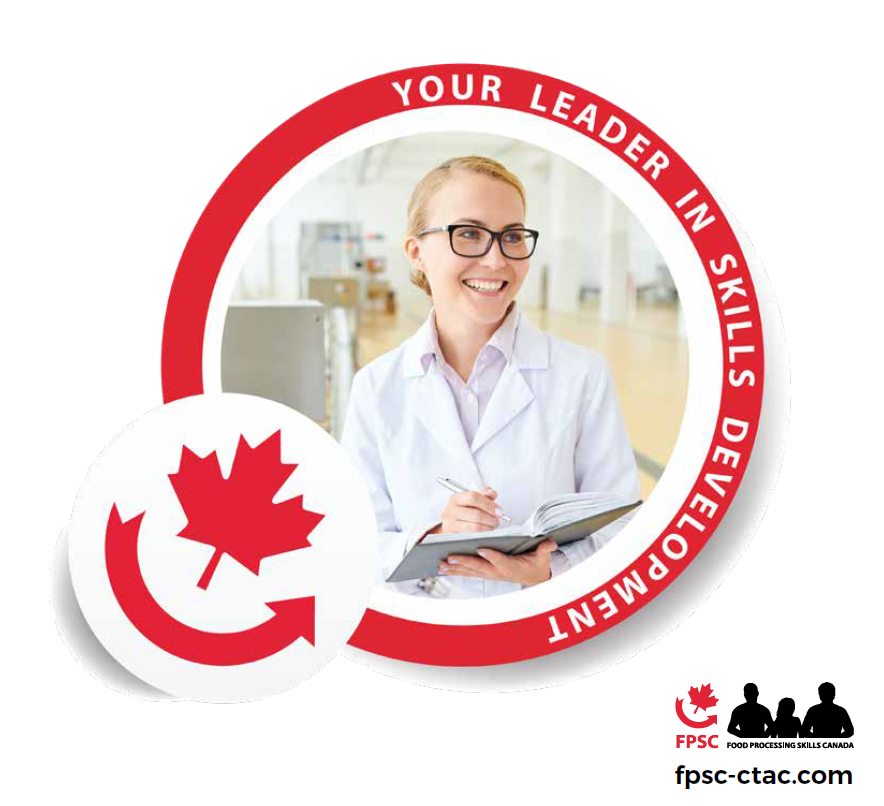 Your leader in skills development
A remarkable 1 in 8 Canadians are employed in the Canadian food and beverage manufacturing industry. When you think of businesses in this industry that are located across the country, think of the dedicated and skilled individuals that make certain food is produced with the highest safety and quality. It is easy to understand why Canada's food and beverage sector is a leader around the globe.
At Food Processing Skills Canada, it is our job to support people with the best skills development and training. We focus on businesses by providing labour market analysis, funding support, e-learning and certification. And with our Learning & Recognition Framework – the first of its kind in Canada – curriculum, courses and accreditation will become aligned.
Where there is a gap in workforce development and career planning, Food Processing Skills Canada develops a solution. We provide industry with grant funding and innovative programming to help businesses grow.
These programs support Canadian food and beverage manufacturers in having the most exceptionally skilled workforce in the world and remaining competitive players on the global stage. To do this, we conduct labour market research that identifies labour and skills shortages. This information then drives discussion with key decision and policy makers. Often our programs are delivered in partnership with a government agency or industry association.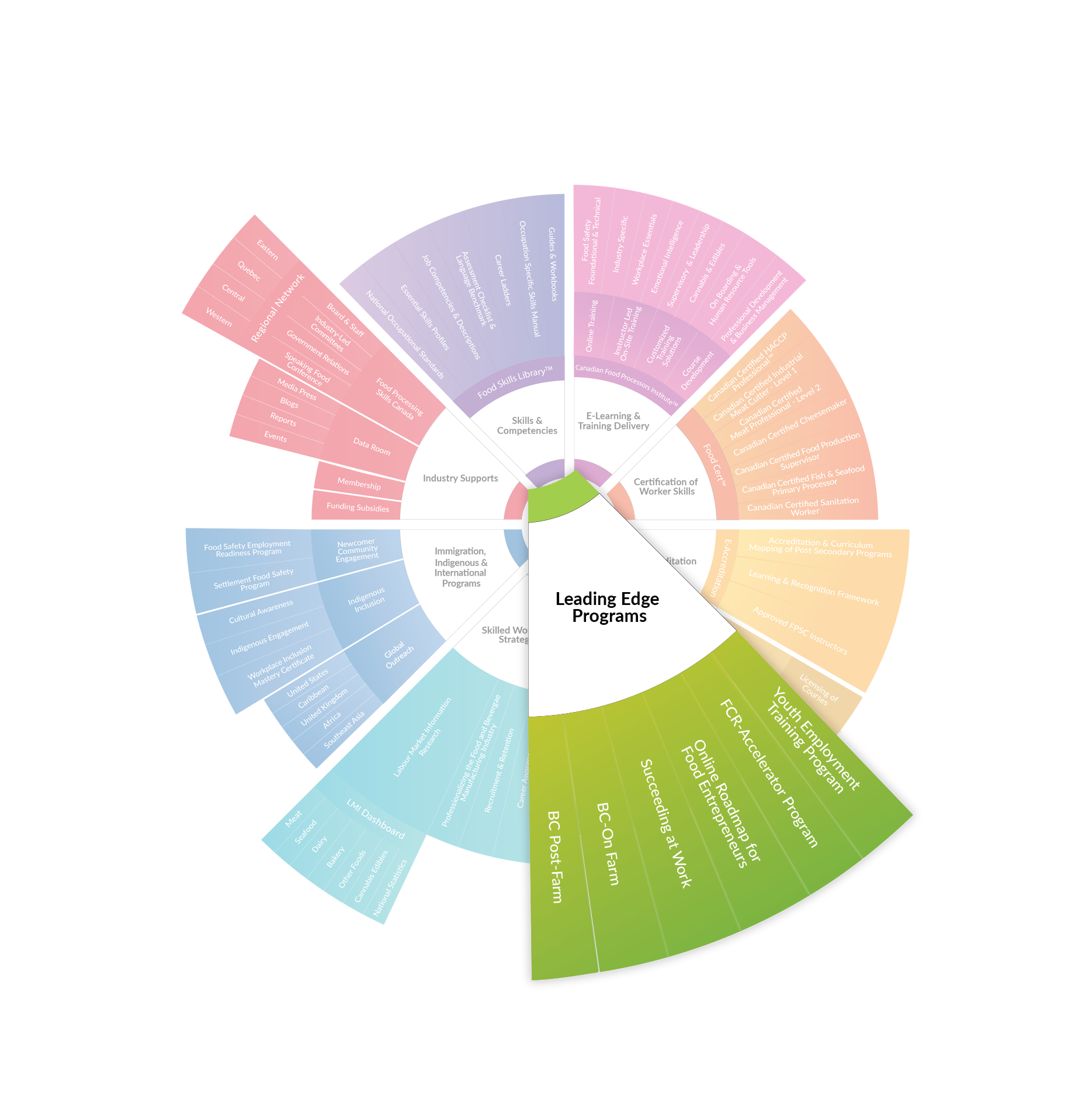 Food Processing Skills Canada is your labour, skills and workforce development non-profit organization. Our job is to provide leadership in professionalizing the food and beverage manufacturing industry so that the most important resource — people — are the best in the world. We have developed a national skills strategy which is a proven long-term approach successfully utilized by other Canadian professional sectors. This strategy builds collaborations with industry, government, academia, unions, associations, community organizations and other stakeholders.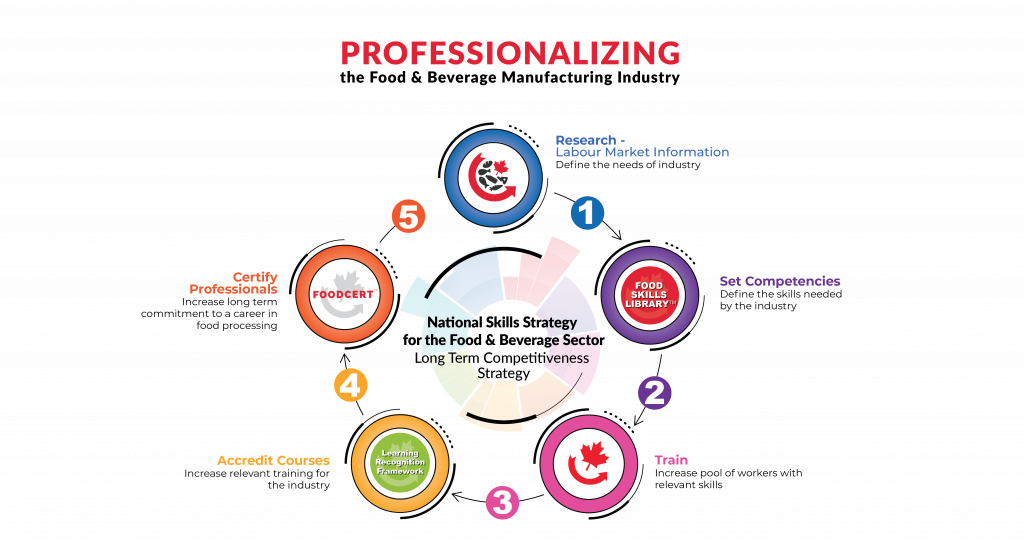 Resources and programs on offer
To better understand how Food Processing Skills Canada is supporting Canadian food and beverage processors, take a look at framework below. Each activity connects and aligns so that we are delivering the very best and most needed resources and programs to industry.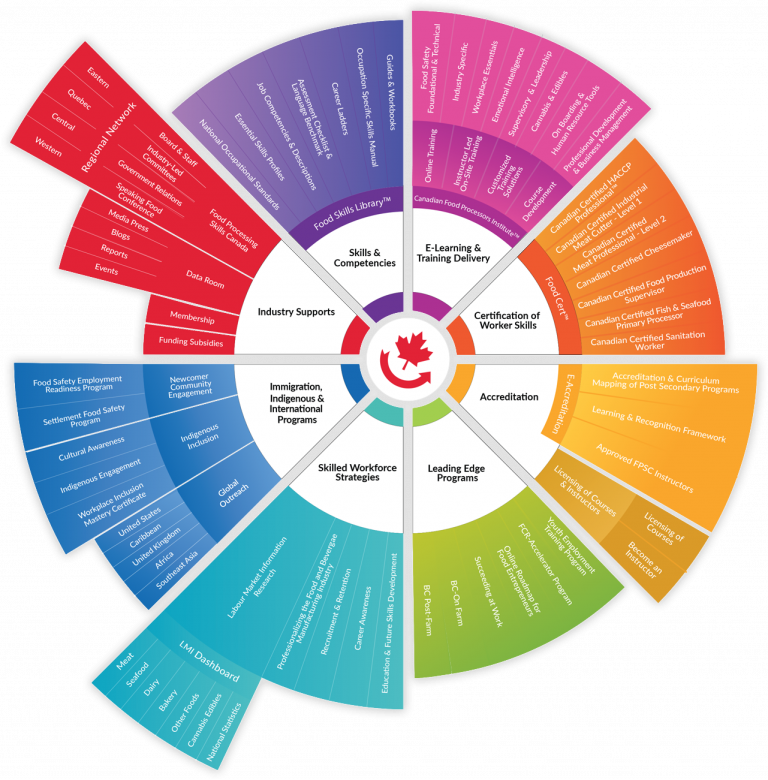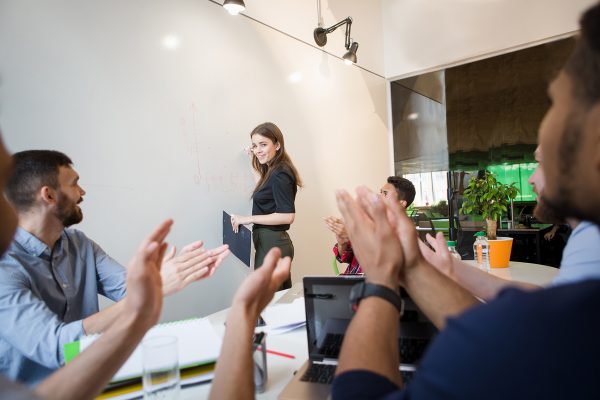 Here is what we do.
Implement new learning frameworks
Set industry standards
Conduct insightful research
Provide companies with funding
Certify people's skills
Lead competency development
Export new course concepts & training models
Provide accreditation
Listen, learn and respond